DGUV 112-191 TO PROVIDE EVERYONE WITH THEIR OWN FOOTWEAR.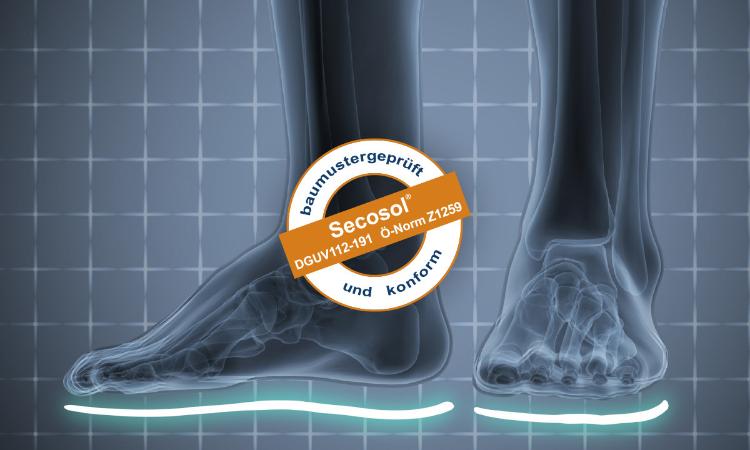 This is a rule issued by the union of German professional associations and public institutions for insurance against accidents at work. Subsequently implemented also in Austria (ÖNORM Z1259).
It is used in the case of an atypical anatomy of the foot, detected after an accurate medical examination, with the worker's need to wear safety shoes.
It therefore becomes compulsory for health reasons, which concern the worker, to consider the use of a specific insole in safety shoes, while maintaining the safety features provided by the CE certification. These insole must be studied by a podiatrist in collaboration with the reference orthopaedic authority.
For this purpose Sixton Peak® collaborates with Hartmann Orthopädie, an important German orthopaedic practice, with branches throughout Europe. Then, having analysed the case, Hartmann Orthopädie suggests the most suitable insole. There may be several solutions: generic, designed to be able to solve 80% of foot problems, called Secosol "Complete" and "Complete +". Or, if necessary, make an impromptu insole, the Secosol Bausatz with special materials and customized for the worker's foot. The Sixton Peak® safety shoes in which the Secosol and Secosol Complete insoles are inserted maintain their technical safety characteristics for which they have been certified in accordance with EN ISO 20345:2011, tested and certified by the same certification bodies, thus also adhering to the DGUV 112-191 rule and ÖNORM Z1259.
DGUV 112-191 is now also widely required in many European countries, however it is an application of the current reference standard EN ISO 20345:2011, and most likely it will be explicitly integrated into the next version of the standard, when under review.